Simon Pitout: "More than 200 cruise ships and over 300,000 passengers this season"
Simon Pitout, the new CEO of DP World Limassol, talks to CBN about what made him decide to relocate to Cyprus and reveals – among other – that the port's operator is expecting more than 200 cruise ships and over 300,000 passengers this season, with October and November expected to be the busiest months, with 34 and 46 cruises respectively arriving at the port.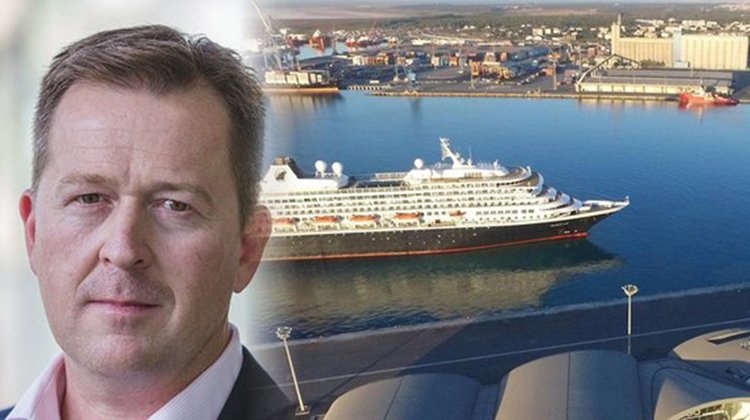 First of all, congratulations on your appointment as the new CEO of DP World Limassol. How did your decision to relocate to Cyprus come about?
Thank you very much. My decision was very easy, as I was offered the opportunity to lead our team here in Cyprus, at the country's biggest port. After being in the country for more than a month I am glad I made this decision, and I am very excited to be taking the reins of the company. I am confident that we will continue to drive growth and continue creating benefits for our customers, partners and the Republic of Cyprus.
Cruise tourism has been on an upward trajectory. Is DP World Limassol expecting this trend to continue in 2023 as well?
Cruise tourism has indeed seen a remarkable revival in the post-pandemic period and is one of the fastest-growing sectors of tourism, as more and more people, and especially younger generations, are choosing to go on cruise vacations. This is mainly because cruises provide a competitive offering and allow passengers to experience multiple destinations. According to a Cruise Lines International Association (CLIA) report, passenger volume is forecast to reach 106% of 2019 levels in 2023 — with a total of 31.5 million passengers worldwide.
At DP World Limassol, we expect more than 200 cruise ships and over 300,000 passengers this season. These numbers are by far the best we've seen since we took over in 2017 and represent a substantial increase over last year. We expect October and November to be the busiest months, with 34 and 46 cruises respectively arriving at the port. In some cases, we will be welcoming 2-3 cruise vessels on the same day.
What do you think of Limassol port's cruise terminal? Has it created any new opportunities and challenges for the company?
The cruise terminal has significantly upgraded the country's maritime sector and cruise capabilities, and we are grateful that the government has chosen us as operators. The Terminal's facilities allow us to process a large number of passengers and multiple cruises at the same time and make us one of the leading cruise destinations in the Eastern Mediterranean.
The fact that international cruise liners have chosen Limassol port also shows that Cyprus's efforts to promote cruise tourism have paid off. From the very beginning of our collaboration with the Cypriot government, DP World Limassol recognised the country's prospects and the benefits that a strong cruise sector can create for the local community. We are proud to be a key partner of the Government in this ongoing effort.
Does DP World Limassol have any new infrastructure projects coming up?
Since taking over in 2017, we have invested heavily in technology and port handling equipment to speed up and improve the terminal's operational capabilities. We have also upgraded terminal infrastructure so we can efficiently accommodate additional vessels, safely process passengers, serve the local market and support the emerging offshore energy sector. Most importantly, we introduced an updated Terminal Operating System and moved all operations-related activities to the cloud.
We are fully committed to make more investments in equipment and automation throughout our tenure. At the same time, we will continue to work with local and international stakeholders to attract further investment and business to the port.
We are also planning investments as part of DP World's ambitious decarbonization strategy, according to which we will mitigate the impacts of climate change by becoming a net-zero logistics organisation by 2050. As such, we are working towards the full electrification of our ports and terminals as well as towards our goal to use 100% renewable electricity across our operations by 2050.
You previously worked at DP World in Dubai. How do the two countries' ports compare?
Our flagship Jebel Ali Port is one of the most technologically advanced ports in the world and has a handling capacity of 19.3 million TEU, making it one of the world's leading logistics and distribution hubs. Although smaller, Limassol port is today a globally renowned location for the cruise, energy and cargo sectors, with throughput increasing annually.
Our Group has over 30 years of experience in managing ports and terminals, and we are therefore confident that we can expand our successful experience to our terminal here in Limassol, capitalising on the country's advantageous geographical position and investor-friendly business environment.
What has your experience been so far in terms of DPW's cooperation with the government and other stakeholders?
Our company maintains an excellent collaboration with the government and other stakeholders and business partners. Over the past six years, we have worked closely with the Government, shippers, port users, and other stakeholders across the global supply chain, to ensure Limassol and the Terminal becomes a major port of choice in the Eastern Mediterranean. Our aim is to further evolve DP World Limassol's role as an important partner of the state and a key stakeholder of the maritime sector and the Cyprus economy. I am confident that together with the Cypriot government we can achieve our goal to secure the long-term future of the port, turning it into an engine of growth and sustainability for Cyprus' economy.
What is your opinion of the Cypriot shipping industry? Has it recovered well since the coronavirus and Ukraine war crises?
The maritime sector in Cyprus is a force to be reckoned with. It boasts the world's 11th largest merchant fleet and the 3rd largest fleet in the European Union. This is a notable feat given the country's size, but it should come as no surprise if we consider the country's location, advantageous tax regime and high quality of services.
While the recent crises, and especially the pandemic, had an adverse impact on both commercial and passenger traffic and the volume of goods moved by sea, the country's maritime sector has demonstrated real resilience. The numbers speak for themselves: Cyprus' ship management revenue reached €648m in the second quarter of 2022, recording an increase of 25.6% year on year. As I mentioned, the cruise sector has also seen a significant recovery, and now we also see the energy sector showing solid growth. We remain optimistic about the outlook for 2023 and beyond, and we will continue to support the growth of Limassol port.