Invest Cyprus Chairman: "Cyprus ranks third globally in post pandemic recovery in FDI"
Evgenios Evgeniou, Chairman of Invest Cyprus, said that Cyprus ranks third globally in post pandemic recovery in foreign direct investment (FDI), though this did not make the agency complacent, addressing the 11th Invest Cyprus International Investment Awards in Nicosia.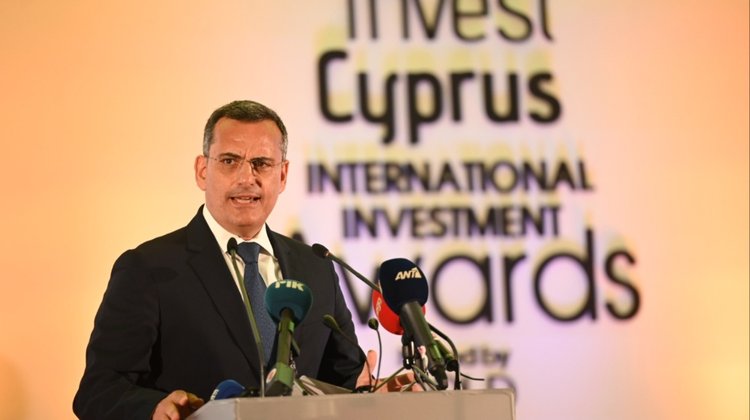 Thanking President Nikos Christodoulides for placing the event under his auspices and for his presence, Evgeniou said Invest Cyprus has three responsibilities: "Promotion to attract new investments to Cyprus; facilitation to help investors making an investment or relocating their business to Cyprus; and aftercare: staying in touch with investors based in Cyprus to get their feedback and try to address pain points."
When it comes to promotion, he said, the focus is on three areas: attracting high specialisation companies and talent; on greenfield investments in renewable energy, digital infrastructure, healthcare, education, and tourism; and on regulated financial services; namely on asset management, fintech and investment funds.
"Our action plan focuses on targeted promotional activities and pitching to large multinationals looking for new locations," said Evgeniou. "That is why we seek an active presence in major financial hubs. Our target markets are countries in our region the Middle East, Europe, and the United States."
Regarding facilitation, Invest Cyprus' investment officers work closely with all relevant departments and primarily with the Business Facilitation Unit at the Ministry of Commerce to make the investment process and relocation to Cyprus as smooth as possible, he added.
"With aftercare we stay in touch with investors to get their feedback and then we work with the relevant governmental departments to address the issues that they face."
As Evgeniou pointed out, "Investors who are already in Cyprus are our best ambassadors and we see them as our partners in our effort to make Cyprus an attractive business hub and investment destination".
The investment agency's Chairman referred to the recent roundtable with investors that took place at the Presidential Palace in the presence of the President and all relevant ministers, saying it was organised in this spirit. "At the request of the President a report has been drafted will all issues raised that will be the basis for action by the relevant government departments," said Evgeniou. "More similar and targeted events will be organised over the next months," he added.
"I take this opportunity to stress that at Invest Cyprus we fully support measures that further enhance the regulatory framework that will help improve the reputation of our country," said Evgeniou.
He said Invest Cyprus took pride in the fact that Cyprus ranks third globally in post pandemic recovery in FDI. "As announced this week by the FDI intelligence, the leading global foreign direct investment publication, Cyprus maintains its position as one of the top overachievers in the Greenfield FDI Performance Index of 2023, ranked 4th in Emerging Europe and 11th globally," he said. "Proof of the success of the national strategy to attract high specialisation companies and talent are the results of a very recent independent study that estimates the direct and indirect economic impact of the ICT sector at the end of 2022 at 4.6 billion and total numbers of jobs created, directly and indirectly, at 36,000 making it one of the most important and definitely the fastest growing sector of the economy."
Evgeniou said the objective was to make this cluster sustainable and to grow similar high specialisation clusters that will drive sustainable growth, diversify the economy, and enhance resilience.
"These results do not make us complacent; we know that there is still a lot that needs to be done," he stressed.
Concluding, Evgeniou stated: "Since 2012, Invest Cyprus, has been organising these Awards to express our appreciation to international investors who believe in this country's potential. I would like to thank Gold Magazine for hosting them and all sponsors for making tonight's event possible. I am confident that with the support of the Government and the cooperation with all ministries, we will continue to act as a single point of contact and offer facilitation and support. I assure you, that together, with all Board Members, the executive team and everyone at Invest Cyprus, we will do our very best to work with all of you and all stakeholders, in the private and public sector, in the common effort to attract new businesses and investments to Cyprus and to make Cyprus, even more hospitable to those who have already done so.
I would like to warmly congratulate all companies that will be honoured tonight and thank them for choosing Cyprus."