ANIMA Annual Forum brings Mediterranean countries together
Emmanuel Noutary, General Delegate, ANIMA Investment Network has welcomed delegates from around the Mediterranean to the ANIMA Annual Forum, being held in Nicosia on 10, 11 and 12 July.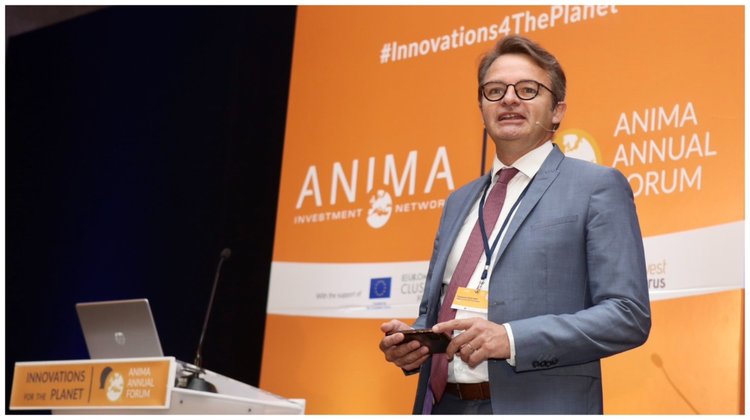 After saying a few words about ANIMA, Noutary said that the first of two major objectives of the organisation and the gathering was bringing Mediterranean countries closer together through economic cooperation.
"The second is to help companies have greater sustainable impact and development," he continued, adding that this would have a good and direct impact on both the environment and the daily lives of people on the planet.
Noutary continued that expert speakers would be talking about the issues over the coming days, to help delegates better understand the challenges of climate change and how to best collaborate, together and with policy makers, to face these challenges.
"On technological developments we will also be presenting Euromed i-House, a place, a service platform and a network to address innovation for the planet, and help start ups and other organizations to collaborate," he added.
The ANIMA Investment Network's Annual Forum is being held in association with Invest Cyprus. On the occasion of the business forum "Euromed Innovations for the Planet", a sequence of events will be organized, as well as the ANIMA Annual General Assembly.
The Forum is targeted at Business and Innovation Support Organisations from Europe, North Africa and Middle East, as well as investors and international organisations active to support enterprises in this region. It aims at mobilising the Euromed Business community to move on with a common agenda of innovation and transition adapted to the global challenges and launch the Euromed i-House to support the implementation of this roadmap.
ANIMA and Invest Cyprus also joined forces to create Euromed i-House, a resource center and collaboration hub for the Euromed region, to serve innovative enterprises and research valorisation and develop solutions to face the social and ecological transition. This center is located in the heart of Nicosia.
The event is being carried out with the support of Euromed Clusters Forward and EBSOMED (Enhancing Business Support Organisations and Business Networks in the Southern Neighbourhood) in partnership with Invest Cyprus.